Kurt Schrader's Hypocritical Citizens United Ad
Schrader's new campaign ad denounces Big Money spending in elections, but as treasurer of the corporate-funded Blue Dog PAC he has authorized $750,000 to a super PAC that is now running ads on his behalf.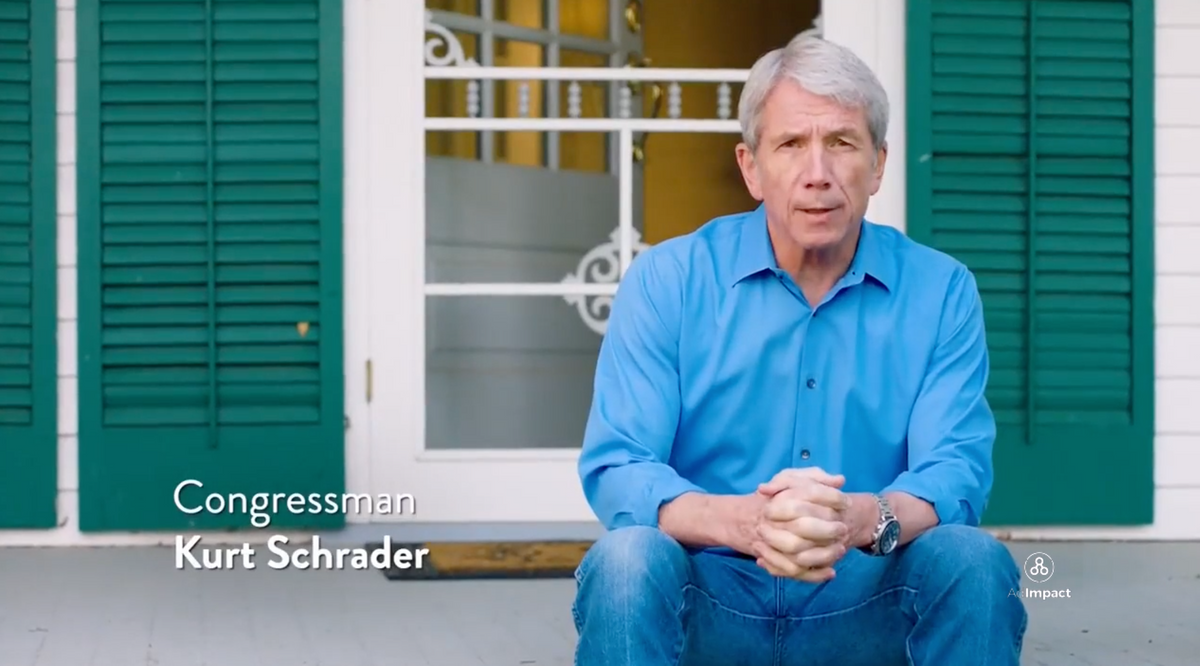 Facing a close Democratic primary contest, Rep. Kurt Schrader is out with a new campaign ad saying he opposes the Citizens United decision that allows corporations and other kinds of organizations to spend unlimited amounts of money on elections.
"The Supreme Court enabled billionaires and special interests to spend millions to stop legislation on everything from climate change to making them pay their fair share," Schrader says in the ad. "That's why I sponsored a constitutional amendment to repeal Citizens United and stop unlimited contributions to campaigns and curb the power of rich elites trying to buy our elections."
Records from the FEC show, however, that Schrader has personally helped to fund the kind of Big Money groups that Citizens United spawned.
Schrader has been the treasurer of the Blue Dog PAC since 2016, and during that period the PAC has contributed $750,000 to Center Forward Committee, a super PAC that is now backing Schrader's campaign. PAC treasurers are responsible for authorizing expenditures or appointing someone else to do so, according to FEC guidance. The Center Forward Committee has spent at least $385,000 on ads promoting Schrader so far this year.
Super PACs like Center Forward Committee that can raise and spend unlimited amounts on elections as long as they are independent from campaigns are allowed to exist because of a 2010 lower court ruling, SpeechNow v FEC, that used Citizens United as a precedent to determine that applying contribution limits to such groups would be unconstitutional.
In Oregon's Fifth Congressional District, the seventh-term Schrader is in what one poll showed to be a neck-and-neck primary race with Jamie McLeod-Skinner, an emergency response coordinator and attorney.
Schrader's ad mentions a constitutional amendment he sponsored to effectively overturn the Supreme Court's Citizens United decision by declaring that Congress has the power to limit political contributions. He first introduced the amendment in 2010 in response to the ruling, and he has reintroduced it in every session of Congress since. The recent iterations of Schrader's amendment have not received any cosponsors, likely because scores of House Democrats have chosen to sign on instead to a similar amendment that is proposed each session by Rep. Ted Deutch of Florida. Schrader has joined Deutch's amendment as a co-sponsor since March 2013, but has continued filing his own version as well.
Barring a constitutional convention, approving a constitutional amendment would require a two-thirds majority of both chambers of Congress and ratification by at least three-fourths of states, either by legislatures or convention. In 2014, Senate Republicans unanimously filibustered a version of the amendment, which passed the Senate 54-42 but failed to reach the 60-vote threshold required by the chamber's legislative filibuster rules.
Many of the Blue Dogs, like Schrader, raise the vast majority of their campaign funds from business PACs, with tiny percentages coming from small donors. In the previous election cycle, under two percent of Schrader's campaign donations came from contributors giving under $200, according to OpenSecrets.
The Center Forward Committee has received contributions from corporate PACs in amounts above what they can donate to individual campaign committees. In 2018, the super PAC received $65,000 from the PAC of the National Restaurant Association and $50,000 from that of tobacco company Altria Group.
Center Forward, an advocacy nonprofit that does not choose to publicly disclose its donors, is closely tied to the Blue Dog Coalition that Schrader has previously co-chaired. The organization is directed by four corporate lobbyists, including two lobbyists for PhRMA and other Big Pharma companies such as Eli Lilly and Merck. The centrist group, which promotes bipartisanship and policies favored by business, has thrown lobbyist-heavy junkets for House congressional staff ahead of major legislative votes. In 2020, Center Forward Committee received nearly $3 million from Center Forward, which from 2016-2018 received nearly that same amount from trade association PhRMA, according to tax records. Schrader was one of three House Democrats to vote against the Democrats' major drug pricing reforms in committee last year.
In March, Center Forward Committee received $400,000 from its nonprofit affiliate, according to FEC records, its only funding to date in the current election cycle.
A new Center Forward campaign ad promoting Schrader viewed by Sludge claims that Schrader has a "100% score with environmental groups," but cites only two groups: Vote Climate U.S. PAC and Clean Water Action. By comparison, Schrader's 74% lifetime voting record in the congressional scorecard of the League of Conservation Voters makes him the fourth-lowest-rated member among current House Democrats.
Schrader's ad calls out spending by billionaires to block legislation "on everything from climate change to making them pay their fair share." In September, on the House Energy and Commerce Committee, Schrader voted against the major Clean Energy Performance Program (CEPP) that was being supported by almost all Democratic members of Congress to reduce greenhouse gas emissions from the power sector, along with other environmental provisions, calling them "fiscally irresponsible."
Schrader's voiceover claims he has worked to curb the power of rich elites, which would be an apt description of a few of his campaign's wealthy donors. Republican megadonor Craig Duchossois, the executive chair of private investment firm the Duchossois Group, has donated at least $11,400 to Schrader's campaigns and PAC. Last year, Duchossois' largest donations went to Republican groups: the Senate Leadership Fund ($2 million), Congressional Leadership Fund ($2 million), as well as super PAC Americans for Prosperity Action ($500,000). In 2020, Duchossois contributed $250,000 to the joint fundraising committee Take Back the House, led by Minority Leader Kevin McCarthy.
In the 2022 and 2020 election cycles, Craig Duchossois has donated to the No Labels Problem Solvers PAC, affiliated with the bipartisan Problem Solvers Caucus of which Schrader is a member. A 2018 investigation in The Daily Beast revealed that the dark money nonprofit group No Labels sought to raise funding from right-wing and conservative megadonors like David Koch and billionaire hedge-fund manager Paul Singer, as well as billionaire Trump supporters like Peter Thiel and Home Depot founder Ken Langone. Some of No Labels' "reocccuring donors" included billionaires John Catsimatidis, John Douglas Arnold, and Douglas Durst, as well as investment bankers Carl Ferenbach, co-founder of Berkshire Partners, and Josh Bekenstein, co-chair of Bain Capital.
As a conduit organization, the No Labels Problem Solvers PAC has donated over $24,000 to Schrader's campaign so far this cycle, according to FEC records. The Schrader campaign did not respond to a request for comment on his role as the Blue Dog PAC treasurer and its new TV ad.
Schrader's 2020 general election win was backed by more than $50,000 in independent spending by the super PAC of Center Forward, according to records maintained by OpenSecrets, and his 2018 general election had nearly $47,000 in spending by super PAC No Labels Action. Previously, Schrader's 2016 general election had $220,000 in spending by the American Hospital Association PAC, and several health care industry executives have donated again this cycle to Schrader's campaign, according to Sludge's review of FEC records.
The New Democrat Coalition Action Fund, a multicandidate PAC of moderate House Democrats that counts Schrader as a member, reported $50,000 in digital media ads supporting Schrader last week.
In a press release this month, the McLeod-Skinner campaign announced that its campaign had raised $540,000, with 88% of contributions at less than $200 and more than 2,000 individual Oregonians making donations. Her campaign is not accepting corporate PAC donations. The Schrader campaign has raised over $2.1 million this cycle, and in the first quarter of this year only about 50 of his itemized campaign donors were based in Oregon, according to Sludge's review of FEC records.
---
Read more: