The Insurance Industry's Favorite Rep Delivers Again
Richard Neal, the top House recipient of insurance industry cash, rewrote the Democrats' family leave proposal so insurance companies can keep skimming profits.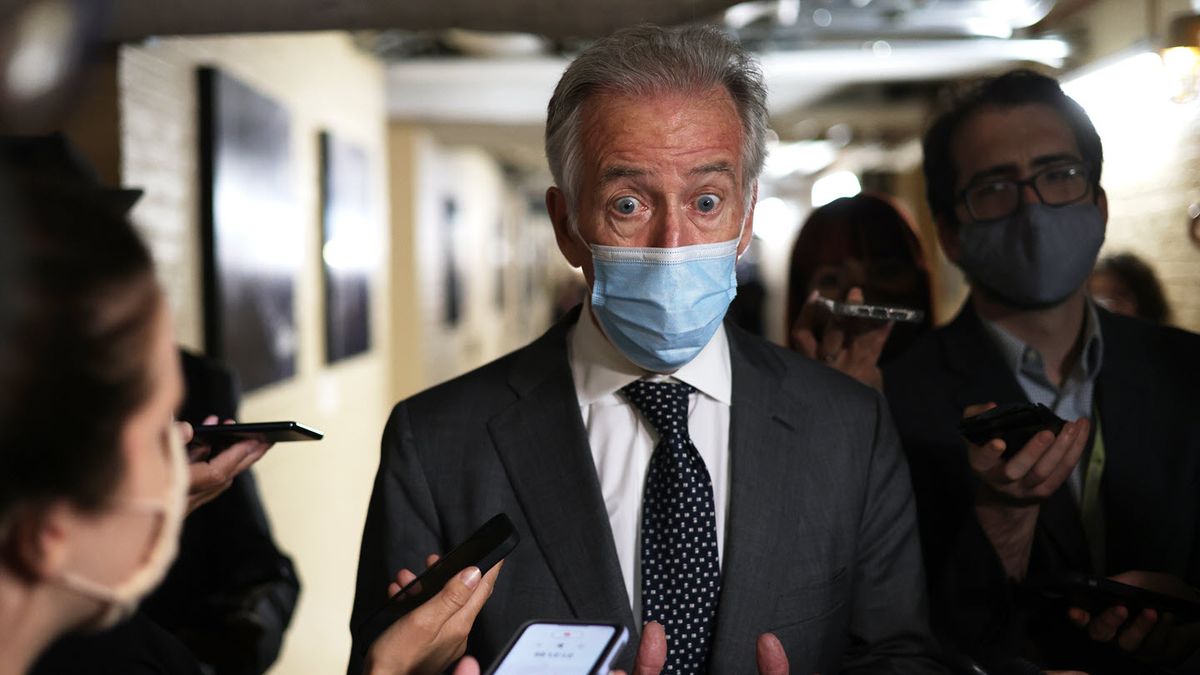 In April, President Biden proposed in his American Families Plan the establishment of a national paid family and medical leave program to provide people with at least two-thirds of their average wages, up to $4,000 a month, for 12 weeks when they have to take time off for the birth of a child or to care for someone who is sick.
Biden's proposal was referred in the House of Representatives to the Rep. Richard Neal (D-Mass.)-chaired Ways and Means Committee, which marked up its version in September. Rather than staying roughly in line with an existing bill that has 205 House Democratic cosponsors and 38 Senate Democrat and Democrat-caucusing Independent cosponsors, one that would make paid leave as a simple Social Security program, the Ways and Means plan would give employers the option to set up their own programs and receive grants from the Treasury Department to pay for the benefits.
Many employers, mainly large ones, contract their paid leave management to life insurance companies, and the Ways and Means bill retains that option. The formula in the bill for determining grant size differs between employees that manage their own programs and those that contract them with insurers. Employers that handle their paid leave benefits in-house would have their annual grant based on 90% of the amount it paid out in prior years or, if lesser, the national average paid by companies per employee. Employers that contract with insurance companies would receive a grant based on 90% of the national average that companies paid in the prior year for the benefits per employee.
Left-leaning policy analyst Matt Bruenig at People's Policy Project says that pegging grants for employers that contract insurance companies to the national average could allow companies that keep claims down to pocket some of the Treasury payout: "By including private insurance in this way, the bill ensures that we will waste some of our paid leave money on private insurer overhead and profits. It also invites employers and insurers to profit off of benefit denials and cream-skimming of various sorts. An employer who has a workforce that takes a below-average amount of paid leave could conceivably get an insurance contract that charges less than the grant the Treasury pays them and then pocket the difference."
Neal's committee drafted this legislation after the congressman has raised large portions of his campaigns' funds for decades from the insurance industry. Five of Neal's top ten career donors are insurance companies or insurance industry trade associations, according to OpenSecrets.
Neal's top career donor, Massachusetts Mutual Life Insurance, offers employers a suite of employee benefits including coverage for leave due to accidents or critical illnesses. The company, which is headquartered in Neal's district in Springfield, Mass., has given his campaign $442,007 since 1989 through PAC and employee donations. The congressman's second largest career donor, FMR Corp ($226,950), has a subsidiary, Fidelity Life, that offers life insurance products. Some of Neal's other top career donors include life insurance companies New York Life Insurance ($144,740), MetLife ($113,800), AFLAC ($107,500), Liberty Mutual ($105,750) and Northwestern Mutual ($95,150). Metlife, New York Life Insurance, and AFLAC have disclosed lobbying Congress on "Paid Family Medical Leave" this year.
Neal's former legislative director Melissa Mueller is now a lobbyist for FMR Corp and Northwestern Mutual, among other clients. In a disclosure she signed this week, Mueller reported lobbying the House of Representatives for Northwest Mutual Life Insurance on "Bill to provide for reconciliation pursuant to title II of S. Con. Res. 14," which would include the paid leave legislation. 
All told, the insurance industry has given Neal's campaigns more than $2.8 million during his congressional career, more than any other industry has given, according to OpenSecrets' calculations, and more than any other member of the House has received.
---
Read more Sludge news: