Blue Dogs Seek to Delay Democratic Budget Plan After Their PAC Takes Millions From Corporate America
The House Blue Dog PAC has received donations from pharmaceutical giants, health care companies, and the fossil fuel industry this year as many of its members seek to delay a vote on the Democrats' budget plan.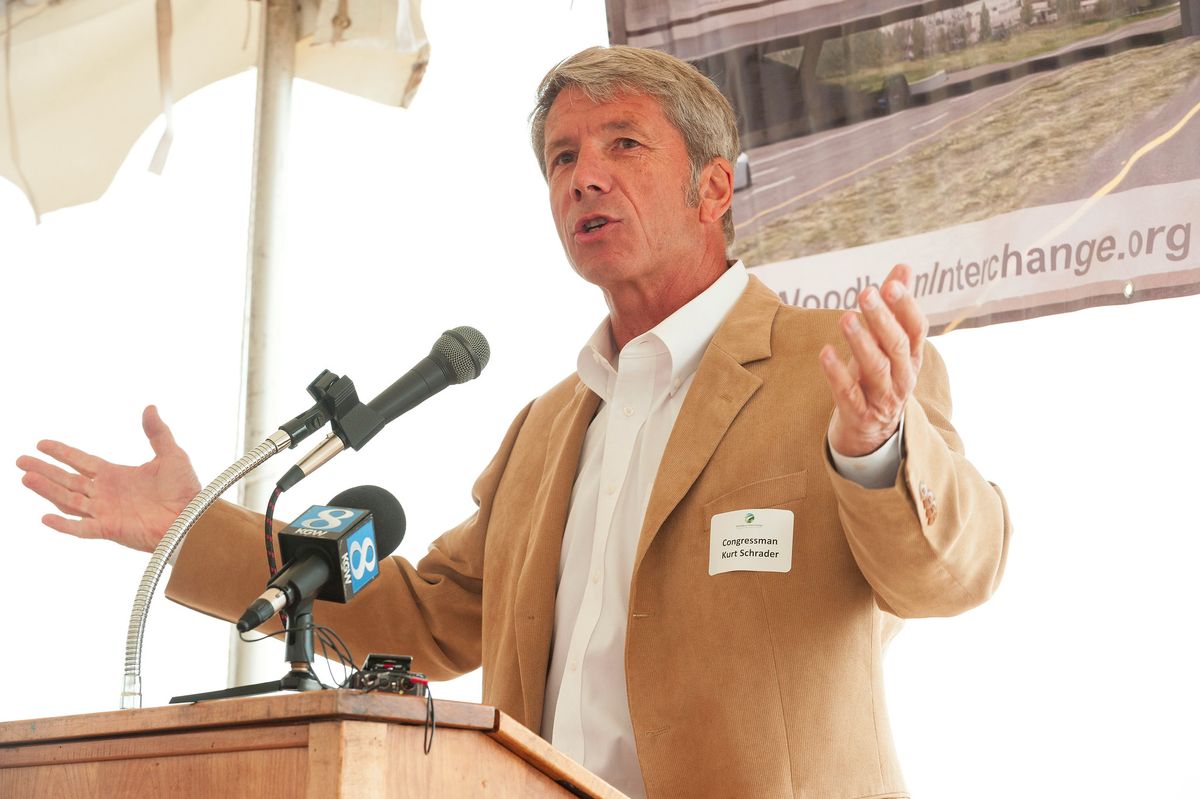 The Democratic budget resolution being voted on today in the U.S. Senate calls for the largest investments in decades in health care and clean energy—spending that was fought for years by large corporations and their lobbying groups.
The resolution from Senate Budget Committee Chair Bernie Sanders is accompanied by reconciliation instructions calling on committees to put forward drug price-lowering measures fought by the pharmaceutical lobby, Medicare expansion opposed by the health insurance companies, decarbonization steps resisted by the fossil fuel industry, and corporate tax levels battled by the behemoth business lobby. Under special rules for legislation impacting spending and revenues, these measures would be put forward in an omnibus reconciliation package that would be protected from filibusters.
Next, the $3.5 trillion budget resolution and a smaller, roughly $1 trillion bipartisan infrastructure bill will head from the Senate to the House, where conservative and progressive Democrats are in a brewing standoff over the sequencing of the votes. Conservative Democrats want to quickly pass the infrastructure bill on its own, while progressives say they will only consider voting for the infrastructure bill after the House passes the reconciliation package.
Business lobbies have allies in a group of nine moderate House Democrats, who in a letter to Speaker Nancy Pelosi raised concerns over the spending levels proposed in the budget resolution and called to delay a vote on its passage.
The nine Democrats signing the letter represent overlapping groups of House moderates. Seven of them are current members of the conservative Blue Dog Coalition: co-chair Rep. Ed Case, with Reps. Jim Costa, Henry Cuellar, Jared Golden, Vincente González, Josh Gottheimer, and Kurt Schrader. Signer Filemon Vela, a leading critic of Speaker Pelosi in years past, recently left the Blue Dog Coalition after joining in 2015. The three Texas Democrats—Reps. Cuellar, González, and Vela—were among the founding members of the Congressional Oil and Gas Caucus in 2017.
The ninth signer, Rep. Susie Lee, is a member of the moderate New Democrat Coalition, which counts 95 members out of the 220 Democrats now in the U.S. House, including all of the above-mentioned Blue Dogs save for Rep. Golden of Maine. Update, Friday Aug. 13, 12pm ET: a new version of the letter from House moderates has the signature of Blue Dog member Rep. Carolyn Bourdeaux, but not Rep. Susie Lee.
Seven of the nine reps—Golden, with Bourdeaux, Case, Gottheimer, González, Lee, and Schrader—are among the 28 Democratic members of the bipartisan Problem Solvers Caucus, of which Gottheimer is the Democratic co-chair.
Both the Blue Dogs and New Dems have PACs that raise millions of dollars every cycle from hundreds of corporate PACs, then send maximum donations of $10,000 back out to their members and more business-friendly Democratic House candidates, sometimes helping Democrats like Golden dodge a pledge not to accept corporate PAC contributions.
Members of the Blue Dogs and Problem Solvers are also bolstered in their careers by outside spending in their races by caucus groups that raise large donations from business interests. The Blue Dogs have been affiliated with a nonprofit, Center Forward, that has a super PAC that takes in millions in large donations from pharmaceutical companies and spends millions on ads to help re-elect the coalition's members. The Problem Solvers Caucus was founded by the organization No Labels, which according to records reviewed by The Daily Beast has been funded by Republican megadonors like John Catsimatidis and Nelson Peltz, as well as by hedge fund and private equity moguls . No Labels' super PAC spent over $3.7 million in the 2018 election cycle supporting Democratic candidates, according to OpenSecrets.
Delaying or blocking a House vote on the Democratic budget resolution could be a way for corporations to weaken or knock off provisions they oppose, as House Democratic moderates push for a vote first on the smaller levels of spending in the bipartisan infrastructure package that is coming over from the Senate. The Budget Committee says its reconciliation instructions allow the Senate to put the U.S. on the path to achieve 80% clean electricity and 50% economy-wide carbon emissions reductions by 2030, as well as to advance legislation to lower the price of prescription drugs.
Here are some of the corporate PACs that donated to the Blue Dog PAC from January through June of this year, along with their lobbying groups that have thrown up blockers to elements of the Democratic budget plan.
Big Pharma
On prescription drug affordability, the budget resolution is accompanied by instructions in line with H.R. 3, which would allow the government to negotiate with drugmakers over the prices of top Medicare purchases, a measure opposed by leading pharmaceutical industry trade group PhRMA. In May, Gottheimer and Schrader were among 10 Democratic signers of a letter to Pelosi who echoed pharma industry talking points in raising concerns over H.R. 3's provisions after having received sizable contributions from pharma PACs in the last election cycle.
In the previous Congress, then-chair of the Blue Dog Coalition Rep. Anthony Brindisi led a charge that would have protected the group's pharmaceutical industry donors against greater competition from generic drugs.
This year, the Blue Dog PAC took in $67,500 from the PACs of trade groups BIO, the National Community Pharmacists Association, and the Pharmaceutical Care Management Association, as well as from the PACs of drugmakers Amgen, Bayer, Eli Lilly, Genenech, Johnson & Johnson, Merck, NovoNordisk, Pfizer, Sanofi, Takeda, and Teva.
Health Insurance Companies
The budget plan includes a proposal backed by over 150 House Democrats to lower the eligibility age for Medicare from 65 to 60, and add coverage for dental, hearing, and vision care. These Medicare expansions were supported in a June poll by Data for Progress by three-quarters of respondents. A poll late last year by the Kaiser Family Foundation (KFF) found that nearly two-thirds of Americans, including half of Republicans, supported lowering the Medicare eligibility age to 60. Allowing people age 50 to buy into Medicare is even more popular, supported by 85% of Democrats and 69% of Republicans, according to a KFF poll from Jan. 2019. The proposal faces opposition from the hospital industry, whose reimbursement rates from Medicare are half of what they get from private insurance providers.
In March, the health care industry's powerful lobbying group America's Health Insurance Plans (AHIP) and the Blue Cross Blue Shield Association scored a win by keeping a lowered Medicare age eligibility out of the American Rescue Plan that was passed that month as a stimulus for COVID-19 recovery. In early 2019, a public affairs executive for AHIP pushed back hard against the proposal to lower the Medicare eligibility age to 50, calling it a "slippery slope to government-run healthcare for every American."
This year, the Blue Dog PAC has received $50,000 from the PACs of health care provider trade groups including the American Nurses Association, the American Hospital Association, the American Society of Anesthesiologists, and the Healthcare Distribution Alliance, as well as from health insurers Anthem, Cigna, CVS Health, Molina, Blue Cross Blue Shield Association PAC, and health services companies Fresenius and Gentiva.
Fossil Fuel Industry
Among the reconciliation instructions' environmental initiatives is a national clean energy standard that would shift power companies to use renewable energy sources, which the leading utilities trade group Edison Electric Institute is pushing to include fossil gas. Environmental groups including Oil Change International and 350.org have found that continued use of natural gas would tip global emissions over the limits set in the Dec. 2015 Paris Agreement on climate. The reconciliation plan also includes trillions of dollars in measures to help decarbonize and keep the country within the targets, confirmed again recently by the International Energy Agency, of halving greenhouse gas emissions by 2030 to avoid the most catastrophic effects of climate degradation. Another major climate measure being considered is a carbon-based border adjustment tax, a proposed tariff on imports like iron, steel, aluminum from China and other countries with more-lax regulations on emissions.
The Blue Dog PAC received $60,000 in donations from the following PACs: the American Chemistry Council and members Dow and ExxonMobil; Dominion Energy, Duke Energy, Koch Industries, Occidental Petroleum, NextEra Energy, PG&E, Phillips 66, and mining company Rio Tinto; and trade groups American Gas Association, Edison Electric institute, and the National Propane Gas Associations.
Pushback on Corporate Tax Rates
Earlier this year, the Business Roundtable, a lobbying group for big business CEOs, came out against the Biden administration's proposal to raise corporate tax rates from 21% to 28% to help pay for infrastructure investments. The reconciliation instructions' proposal for corporate tax hikes is opposed by the top spender on lobbying through the first half of 2021, the U.S. Chamber of Commerce, along with the National Association of Manufacturers, the eleventh-highest spender this year, and the National Retail Federation.
The Blue Dog PAC raked in $50,000 from the PACs of the American Bankers Association, American Financial Services Association, Capital One, the Consumer Bankers Association, Flagstar Bank, the Independent Community Bankers Association, Mortgage Bankers Association, trade group Securities Industry and Financial Markets Association, Synchrony Financial, and investor Carlyle Group, as well as $2,500 apiece from American Express and Citigroup. AmEx has acknowledged being a Chamber member in past disclosure, according to a 2017 report by watchdog group Public Citizen, and remains a participant in the Chamber's foundation. Citi is still listed as a member of the Chamber's councils.
Defense contractors BAE Systems, Boeing, BWX Technologies, General Dynamics, and Huntington Ingalls each donated $5,000 from their PACs to the Blue Dog PAC. The PACs of telecom giants Charter, Comcast, and cable industry trade association NCTA each chipped in $5,000, as did those of AT&T and T-Mobile. The PACs of Home Depot and the Association of Equipment Manufacturers each gave $5,000, as did Toyota, UPS, Burger King Franchisees, and Wendy's, with Lowe's donating $2,500 to the Blue Dog PAC.
New Dems PAC Donors
The New Democrat Coalition Action Fund has taken in over $915,000 through June this year according to Federal Election Commission records. The New Democrat PAC donated $10,000 to Case's 2020 campaign and contributed $3,000 to Golden in his 2018 race.
FedEx, which according to the nonprofit Institute on Taxation and Economic Policy has not paid federal income tax in three years, has donated $125,000 this year to the New Democrats PAC through earmarking for multiple recipients, according to a review of the PAC's monthly FEC records. Its donations are followed by $105,000 from the Investment Company Institute PAC and $100,000 from Anthem's PAC, $90,000 from AFLAC's PAC, $90,000 from Honeywell's PAC, and $75,000 from Home Depot.
Other corporate PACs chipping in to the New Dems PAC include $5,000 donations from Abbott Labs, Bayer, Cigna, CVS, Delta, ExxonMobil, Johnson & Johnson, Mastercard, NextEra Energy, Pfizer, the Securities Industry & Financial Markets Association, T-Mobile, Toyota, and Walmart. AmEx, Citi, and Genentech donated $2,500 each to the New Dems so far this year.
Originally posted at The Brick House Cooperative
---
Read more Sludge at Brick House: