Exxon Lobbyist Caught on Tape Is an Advisor to Congressional Black Caucus Foundation
The lobbyist, Keith McCoy, was caught on video discussing how his company has fought climate science and worked to stop Congress from passing climate bills. The CBC Foundation has declined to boot him from its advisory board.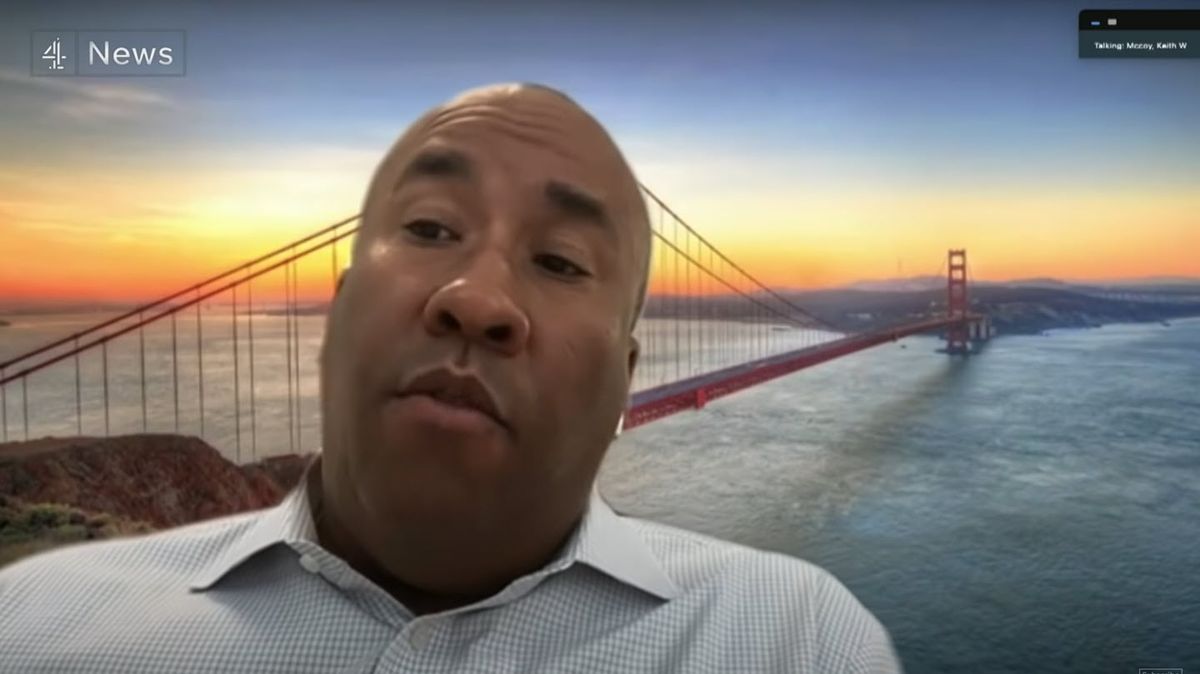 ExxonMobil senior lobbyist Keith McCoy was caught on video more than a month ago saying that he and his employer fight congressional climate action by using "shadow groups" and centrist think tanks. But the Congressional Black Caucus Foundation has so far decided to keep McCoy on as an advisor.
McCoy is a member of the Congressional Black Caucus Foundation's (CBCF) corporate advisory council, which "[advises] the CBCF's Board of Directors on policy, special initiatives, and leadership development." The CBCF's Board of Directors currently includes six members of the House of Representatives, some of whom hold positions on the House committee with jurisdiction over legislation related to environmental protections and climate change.
The CBCF is a nonprofit affiliate of the Congressional Black Caucus that researches how policies affect Black communities, publishes legislative reports, and hosts an annual legislative conference that it describes as "the leading policy conference on issues impacting African Americans and the global Black community."
On June 30, a Greenpeace-affiliated outlet released video of McCoy, a senior director of federal relations for Exxon, telling an undercover reporter that his company works behind the scenes to stall action on climate change even as it claims publicly to support the Paris Agreement and policies like a carbon tax. McCoy, who believed he was giving advice to someone who was looking to hire a lobbyist, said that the company backs a carbon tax because it believes it will never happen but gives it a good talking point.
Sludge asked the CBCF if it would keep McCoy on its advisory board and if it would continue to take donations from Exxon, but did not receive a response.
The Congressional Black Caucus has 57 members, all Democrats, including both representatives and senators.
On his work to influence members of Congress, McCoy describes representatives and senators as fish, and himself as a fisherman. "When you have an opportunity to talk to a member of Congress, you know… I liken it to fishing, right, you have bait, you throw that bait out, it's all these opportunities that you use, just to use the fishing analogy again, to reel them in, because they're a captive audience."
"Did we join some of these 'shadow groups' to work against some of the early efforts? Yes, that's true," said McCoy. "But there's nothing illegal about that. You know, we were looking out for our investments, we were looking out for our shareholders."
Darren Woods, Exxon's CEO and chairman, has disavowed McCoy's comments. "We condemn the statements and are deeply apologetic for them, including comments regarding interactions with elected officials," Woods told NBC News.
Exxon has donated more than $2.1 million to The CBCF since 2011, including making a recent donation of $100,000 on June 21, according to lobbying contribution records filed by the company. The Congressional Black Caucus Political Education and Leadership Institute, an affiliated nonprofit, has additionally taken in more than $200,000 from the oil company over that period.
Because of centuries of racist laws and policies, Black Americans disproportionately live in areas on the front lines of the environmental threats posed by climate change and the health impacts of fossil fuel pollution. Researchers at the Princeton Student Climate Initiative found last year that "more than one million African Americans live within a half-mile of natural gas facilities, over one million African Americans face a 'cancer risk above EPA's level of concern' due to unclean air, and more than 6.7 million African Americans live in the 91 U.S. counties with oil refineries." In several cities across the country, neighborhoods with more Black residents already have higher average temperatures in the summer because they have fewer trees and more pavement, patterns that correlate with racist redlining maps created by the federal government in the 1930s.
The CBCF has in the past been accused of ignoring climate change despite its disproportionate impact on Black communities. In 2016, Denise Fairchild, president of environmental justice group the Emerald Cities Collaborative, wrote in The Root that the group's annual conference did not have a single mention of climate change on its agenda. "How does the largest gathering of influential black politicos and leaders in the country not insert itself into the largest global-policy conversation taking place today?," Fairchild wrote.
The CBCF board members advised by McCoy and his colleagues, many of whom also represent large corporations, include members of the House Energy and Commerce Committee and other key environmental bodies in Congress. Board member Rep. Don McEachin (D-Va.) sits on the Committee on Energy and Commerce, the Select Committee on the Climate Crisis, the House Committee on Natural Resources, the Energy and Commerce Subcommittee on Energy, and the Energy and Commerce Subcommittee on Environment and Climate Change. Another board member, Rep. Robin Kelly (D-Ill.), is the vice chair of the Committee on Energy and Commerce.
In Nov. 2019, during the previous Congress, McEachin introduced a climate measure that would direct federal agencies to write regulations that reach net-zero carbon emissions in the U.S. by 2050. McEachin's bill was joined by over 150 Democratic cosponsors, including powerful Energy and Commerce Chair Frank Pallone of New Jersey, but did not have the sign-on of Green New Deal proponent Rep. Alexandria Ocasio-Cortez. McEachin has not joined the Green New Deal resolution as a cosponsor. Rep. Karen Bass, second vice chair of the CBC in the previous Congress, did cosponsor the Green New Deal resolution, as did CBC whips Reps. Gwen Moore and Joe Neguse, but other previous CBC officers including Rep. André Carson, first vice chair, and Rep. Brenda Lawrence, secretary, did not. 
The CBC has been a conservative force in recent Democratic primaries by endorsing moderate candidates who face progressive opponents that campaign on environmental justice and the Green New Deal climate policy framework. CBC PAC has endorsed Democratic establishment favorite Shontel Brown in her Ohio primary against former Bernie Sanders delegate Nina Turner. Earlier this year, former CBC chairman Cedric Richmond endorsed Rep. Troy Carter (D-La.) over the more left-leaning Karen Carter Peterson. Carter funded his campaign with donations from oil company PACs and fossil fuel industry lobbyists despite pledging not to, and he has since joined the CBC.
---
Read more from Sludge: