Update on the (Uncertain) Future of Sludge
Sludge is seeking hundreds of new members as we face a potential shutdown. We need your help to stay afloat.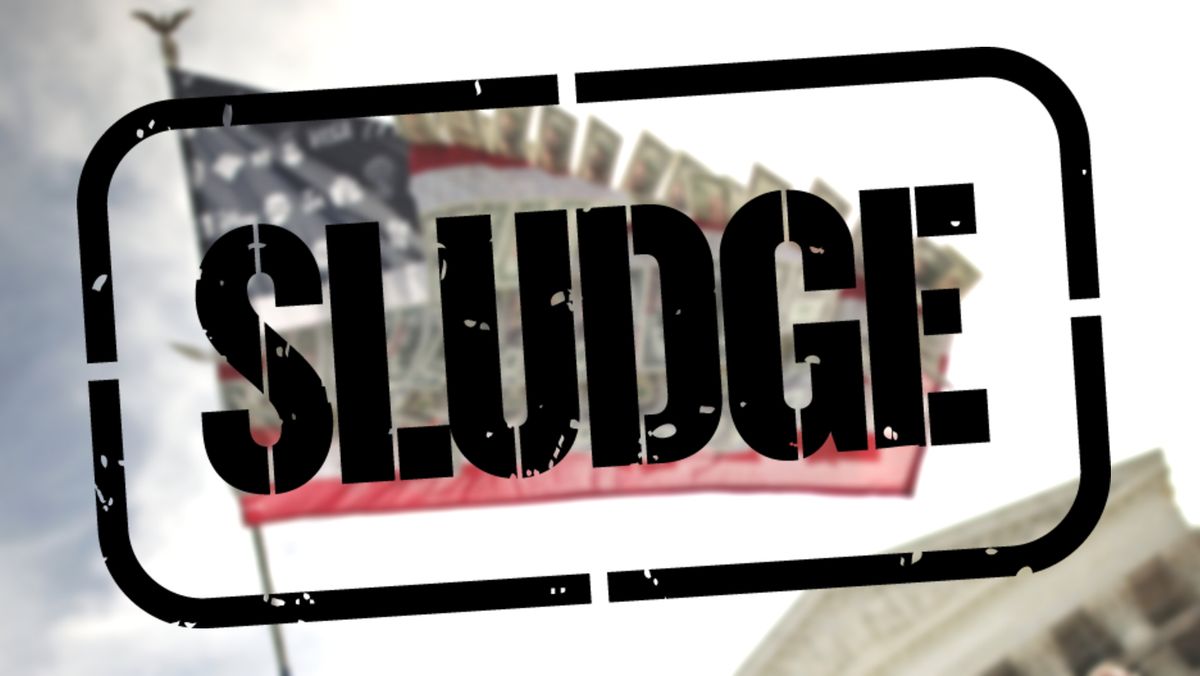 Sludge had a huge September. We partnered with The Guardian to publish a groundbreaking report on senators' stock holdings and released a major exposé of Facebook's promotion of hate groups. We signed up more small-donor members than in any previous month, and our traffic is trending higher. We are now 25% of the way towards our goal of being completely sustained by small donations from our members.
Nevertheless, unless we raise significant funds in October, Sludge will need to go into hibernation on October 31. The fact is, over the past 18 months we have not been able to raise new funding from foundations or major donors to support our work as we grow towards a 100% reader-supported operation, so we're out of dough.
If you appreciate our work, please become a member.
If you'd rather make a one-time contribution, here are some other ways you can chip in (it all ends up in the same pot):
Sludge's momentum has never been stronger, and with the 2020 elections approaching and vast amounts of dark money being spent in politics, we really want to keep producing our investigative journalism. But we need gap funding from a major donor to help us continue our progress towards full reader support. The way these funding discussions work is always personal and highly idiosyncratic, but major donors want to give to projects that will be lasting and sustainable. If we can show a swell of reader support for our hard-hitting money-in-politics reporting, we have a good chance at securing gap funding to continue producing it.
We're Not Giving Up Yet
We are in discussions with major donors about funding to continue publishing, but if these talks don't succeed, we'll enter hibernation on October 31. Today, we're launching one last membership drive to sign up readers as $5 per month donors to show potential donors that we're on a path to 100% reader-supported sustainability.
Sludge is an ultra-efficient operation that punches above its weight (if we may say so). Our annual operating budget to produce hundreds of original investigative reports is just a fraction of the resources of most political news outlets. In order to extend our recent uptick in memberships, co-founders David Moore and Donny Shaw have only been paying themselves a few thousand per month (and for October, no dollars per month) while keeping up funding talks. We operate a virtual office with hardly any overhead costs beyond basic tech infrastructure.

With traffic and membership numbers on the rise, our signups show that Sludge could reach 100% reader-supported sustainability in Q4 of 2020 and continue exposing political corruption for many years to come. But we need gap funding to get us there.

We are dedicated to continuing publishing timely, data-driven investigative journalism on lobbying and money in politics. Public savings from accountability reporting is in the billions of dollars, according to the Global Investigative Journalism Network's 2017 report: "Good stories reveal structural problems that have a negative impact on society, and in turn force policy changes and criminal proceedings that save millions in the long run."
Sludge's three-person team has money-in-politics expertise, exclusive datasets, and a track record of getting important accountability stories to circulate widely, raising public awareness of hidden influence. Our ICE & CBP contractor maps went viral; we questioned the corporations donating to white nationalist Rep. Steve King; we were the first newsroom to reveal blatant conflicts of interest in senators holding fossil fuel company stocks; we uncovered hate group funding networks and "astounding" Facebook ad buys; we exposed Sen. Mitch McConnell's campaign contributions from voting machine lobbyists. And we'll continue to make these swampy corruption stories go viral next year.
How You Can Help
From now until the end of October, the Sludge team will be working to secure gap funding so we can continue publishing and building towards 100% reader sustainability. If you appreciate our work, here are two things you can do that would be a huge help:

Blow Up Our Membership Numbers. If you are not a Sludge member, please become one today—it's huge for demonstrating to potential donors that our readers care about our work and that sustainability is possible. Our membership numbers have been growing faster than ever before, but if we can show a major explosion in small-donor support it will be an undeniable sign that we can achieve sustainability if we can secure gap funding through the 2020 election year.
For a $100 gift, receive our first-ever SLUDGE logo t-shirts, screen-printed and shipping this month.
Click here to become a member.
Spread the Word. Another way you can help is by posting a testimonial on Twitter or Facebook in support of Sludge. We want to create a buzz that catches the eye of big journalism funders so they see that our readers value our work. Just write a few words about why you support Sludge and share a link to this blog post or to our donate page.
We can accept tax-exempt charitable grants today to our affiliated 501(c)3 non-profit organization for public accountability journalism. We're open to collaborating with newsrooms on state, local, or issue-focused investigations and data journalism. Get in touch to help us follow the money through 2020: [email protected].