Trump's FAA Is Captured by Boeing, and Only Ted Cruz is Outraged?
Boeing is providing Trump-level cooperation with the House Transportation Committee, but no subpoena has been issued.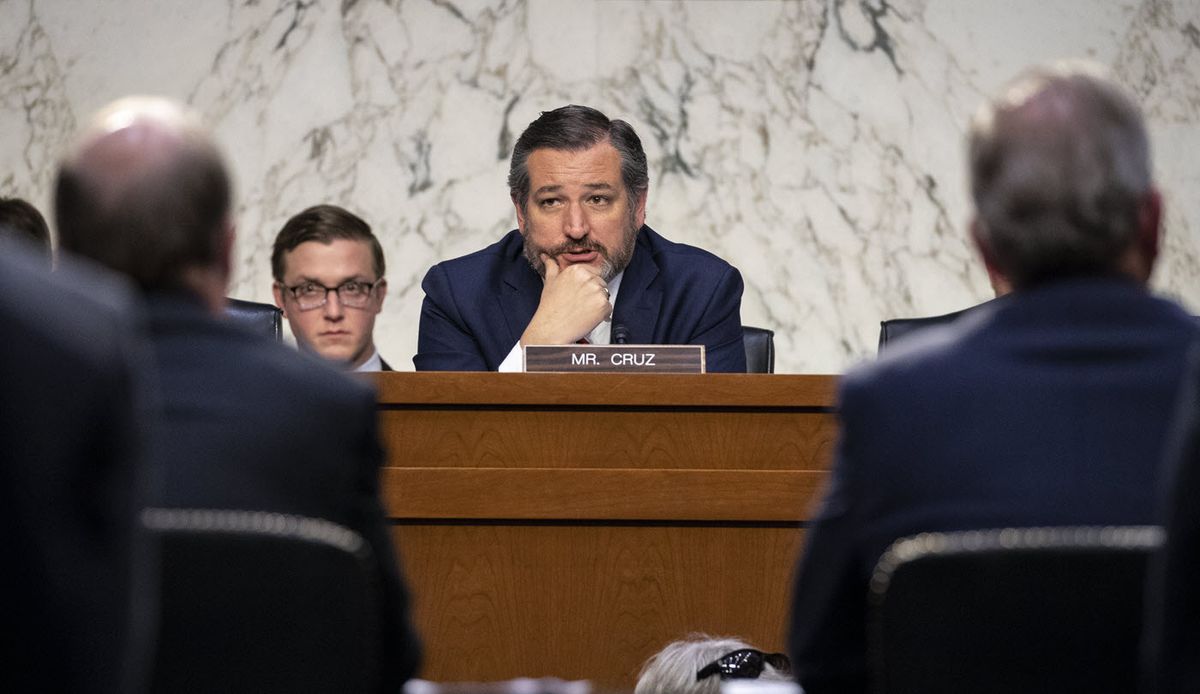 It's been a couple of generations since large swathes of Congress did effective oversight. In its absence, voters have become increasingly ignorant about what the executive branch does, particularly the corporate excesses that can only be prevented and punished by a federal government focused on the public interest.
That's why the Revolving Door Project has argued that Democrats ought to savor their opportunity to conduct oversight that underscores how corporations are capturing the agencies of the Trump administration and undermining ordinary Americans while enriching the globe's worst people. Unfortunately, too few Democratic committee chairs relish this opportunity like House Financial Services Committee Chairwoman Maxine Waters (D-Calif.).
Consider the astonishing fact that House Democrats have been no more aggressive overseeing Boeing or the Trump Department of Transportation than Senator Ted Cruz's (R-Texas) Senate subcommittee. On May 15 there were hearings on both sides of the Capitol. On one, Senator Cruz—Ted Cruz!!!—grilled Trump's nominee to run the Federal Aviation Administration (FAA) over the deaths of 346 people due to the failings of Boeing.
Indeed, grilling was certainly in order. Two Boeing planes crashed because, it seems, "a safety feature that Boeing thought was standard was actually a premium add-on." Boeing discovered the lapse in 2017 and then "performed an internal review and determined that the lack of a working warning light 'did not adversely impact airplane safety or operation.'"
Boeing was wrong, and Boeing was in charge because the FAA failed to perform a safety review of the anti-stall system. As the New York Times noted, this tragedy "exposes a glaring regulatory gap, with the agency's bureaucratic process proving insufficient for the increasing complexity of airplane design."
The FAA allowed Boeing to make a seemingly critical safety feature a "premium add-on" because, since George W. Bush's presidency, the FAA has implemented a "strategy of delegating much of its regulatory oversight to hundreds of employees at the companies it oversees."
Cruz's performance was noteworthy. He observed, correctly, that "bureaucratic inertia is powerful." Cruz asked the FAA nominee to, if confirmed, "be pissed off that 346 people died." Cruz even noted the "serious breakdown in the certification process" and suggested that the FAA was a victim of "agency capture" by Boeing (similar questions are being asked of Boeing and the Defense Department, currently run by a longtime Boeing executive).
Cruz does remain, well, Ted Cruz. For instance, while he bemoaned "agency capture" – i.e., instead of corporations being regulated by government, they exert great influence on their putative regulators — Cruz was happy to support the confirmation of a former Delta Air Lines executive to run the FAA.
While Ted Cruz was exceeding low expectations, on the other side of the Capitol a House Democratic committee chair was underperforming our high expectations. In mid-March, we exulted when House Committee on Transportation Chairman Peter DeFazio (D-Ore.) claimed he was willing to issue subpoenas to get to the bottom of the relationship between Boeing and the FAA. Yet, during last Wednesday's hearing, we learned that "Boeing has not yet provided 'a single' document" to the committee.
"I'm hoping that they will provide the documents we have requested voluntarily and in the not-too-distant future," was DeFazio's meek response to more than two months of stonewalling by Boeing.
Why hope when one could subpoena? Why wait to subpoena when an issue requires urgent attention? As the Supreme Court has noted, "The issuance of a subpoena pursuant to an authorized investigation is similarly an indispensable ingredient of lawmaking." As we have argued previously, aggressively taking on corporate bad actors is the type of conspicuous populism that might attract voters skeptical that Democrats are less captured by corporate elites than Republicans.
Democratic lethargy is especially incongruous given the identity of Trump's Secretary of Transportation —Elaine Chao. Chao, a longtime Republican operative and corporate insider who is married to Senate Majority Leader Mitch McConnell (R-Ky.), previously helped run the notoriously partisan News Corp (Fox News' corporate parent) and the notoriously corrupt Wells Fargo.
Under Chao's supervision, the FAA did not have a Senate-confirmed leader for well over a year. including during some of the time Boeing felt empowered to hide from the FAA that its software did not work properly, as well as when the FAA lagged other agencies around the globe in grounding the Boeing 737 Max, the FAA's final failure to police Boeing's negligent behavior. True, Trump bears some responsibility, as he was trying to install his former pilot as head of the FAA (that is not a joke), but the FAA is a component of Chao's agency. And while Chao has answered some questions from the House Appropriations Committee, she has yet to appear before DeFazio's committee, which has primary oversight responsibility for her department.
It's about time that the House Committee on Transportation views oversight as an opportunity to highlight deeply substantive questions and lay the groundwork for reform. But urging oversight is not like urging a child take their bitter medicine because it would be good for them in the long run. Democrats ought to realize that doing vigorous populist oversight that dramatizes the connections between the worst corporations and politically-connected Trump officials is not a political risk, but rather an enormous political opportunity.
---
Related: