Facing a Wall Street Critic, Mimi Walters is Suddenly Popular With Finance Industry Donors
For the first time, Walters' top donors this cycle come from the securities and investment industry, and Goldman Sachs in particular.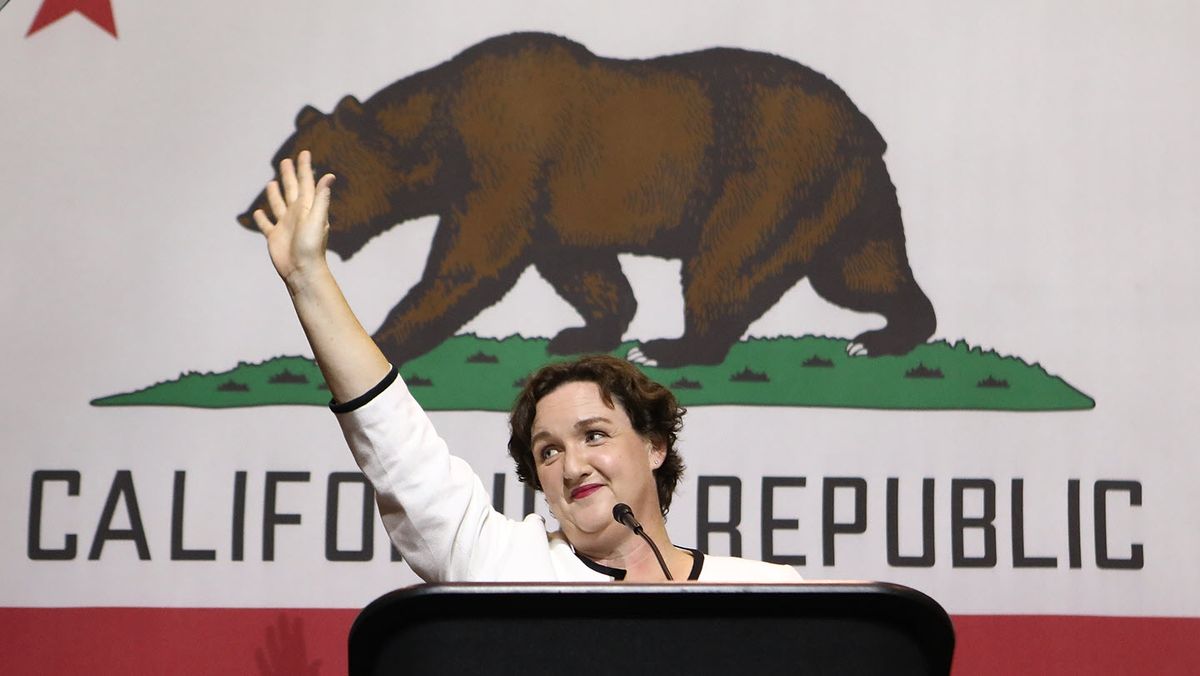 UPDATE: on Thursday, Nov. 15, the Associated Press reported that Democratic challenger Katie Porter had defeated Republican Mimi Walters by 126,574 votes to 122,777, according to Ballotpedia (50.8% to 49.2%).
In California's 45th Congressional District, Republican Mimi Walters is facing a strong challenge from Democrat Katie Porter, a University of California-Irvine professor and consumer advocate who has made regulating Wall Street a central theme of her campaign. Wall Street interests are spending big to support Walters and keep Porter out of Congress.

In the 2018 election cycle, the securities and investment industry has given more money to Walters than any other industry ($302,000), according to campaign finance data compiled by the Center for Responsive Politics. Walters' single largest campaign contributor this cycle is Goldman Sachs, whose political action committee and senior employees have given her $37,500.

This level of financial industry funding is new for Walters. This is the first cycle that the securities and investment industry is Walters' top donor industry; in past elections her top donor industries have been pharmaceuticals in 2016 and real estate in 2014. Goldman Sachs' PACs and employees had only contributed a combined $5,500 in her two previous election cycles.

Walters does not serve on the Financial Services Committee and her district is not known as a top financial industry hub, so some observers think the surge in Wall Street money to Walters' campaign is because the industry is afraid of Porter.

"Like Elizabeth Warren, Katie Porter has spent years standing up to big banks on behalf of families who were cheated — and winning. Wall Street obviously fears that," said Adam Green of the Progressive Change Campaign Committee, which endorsed Porter.
Porter has pledged to reject contributions from corporate PACs, and she said in an interview with the UC-Irvine campus newspaper that she would not take money from individuals who work for big banks, big oil, big pharma, private charter schools, or the NRA. A Sludge review of her campaign contributions found that she has mostly followed through on that pledge. A $1,000 earmarked contribution from a Morgan Stanley banker and three contributions from a US Bancorp database administrator totaling $1,199 were identified.
As a public interest lawyer, Porter was appointed in 2012 by then-California Attorney General Kamala Harris as California's independen monitor in the National Mortgage Settlement, helping homeowners who were facing foreclosure in the wake of the 2007-08 financial crisis to fight against fraudulent mortgage practices of banks and stay in their homes.

She has made protecting consumers against financial interests a key message of her campaign. "Before the housing bubble burst, I was one of the first to sound the alarm about Wall Street's predatory practices targeting homeowners, winning recognition from the New York Times and many others," she told Ballotpedia in a candidate survey. "I have been a key player in the fight against abusive credit card fees and, in 2010, helped pass important federal credit card protections for families."

"Katie held Wall Street banks accountable when they cheated middle-class homeowners," one of her ads states:
Walters, for her part, has voted consistently on favor of legislation supported by Wall Street during her time in Congress. Earlier this year she voted for the "Economic Growth, Regulatory Relief, and Consumer Protection Act" (S. 2155), a major deregulatory bill that amends or repeals several provisions of the 2010 Dodd-Frank Act and benefits financial corporation ranging from the smallest community banks to large bank-holding companies like Goldman Sachs. She also voted for the Financial CHOICE Act (H.R. 10), which would eliminate Dodd-Frank's measures for unwinding failing "too big to fail" banks and weaken the powers of the Consumer Financial Protection Bureau.

Walters signed on as a co-sponsor on the Tailor Act (H.R. 1116), a bill that requires financial regulators to consider the risk profiles of financial institutions and tailor regulations so as to limit burdens on them.

Besides the $302,000 that Walter received from PACs and individuals affiliated with the securities and investments industry this cycle, she has also received $34,050 from commercial banking industry, including the PACs of Wells Fargo, SunTrust Bank, and the American Bankers Association, and $60,250 from interests labeled "misc finance" by the Center for Responsive Politics, including the PACs of Experian and the American Financial Services Association. These PACs are funded by employees of the companies they are affiliated with and the funds are doled out strategically to either influence the actions of winning candidates once they are in office, such as supporting deregulatory legislation, or to affect the outcome an election.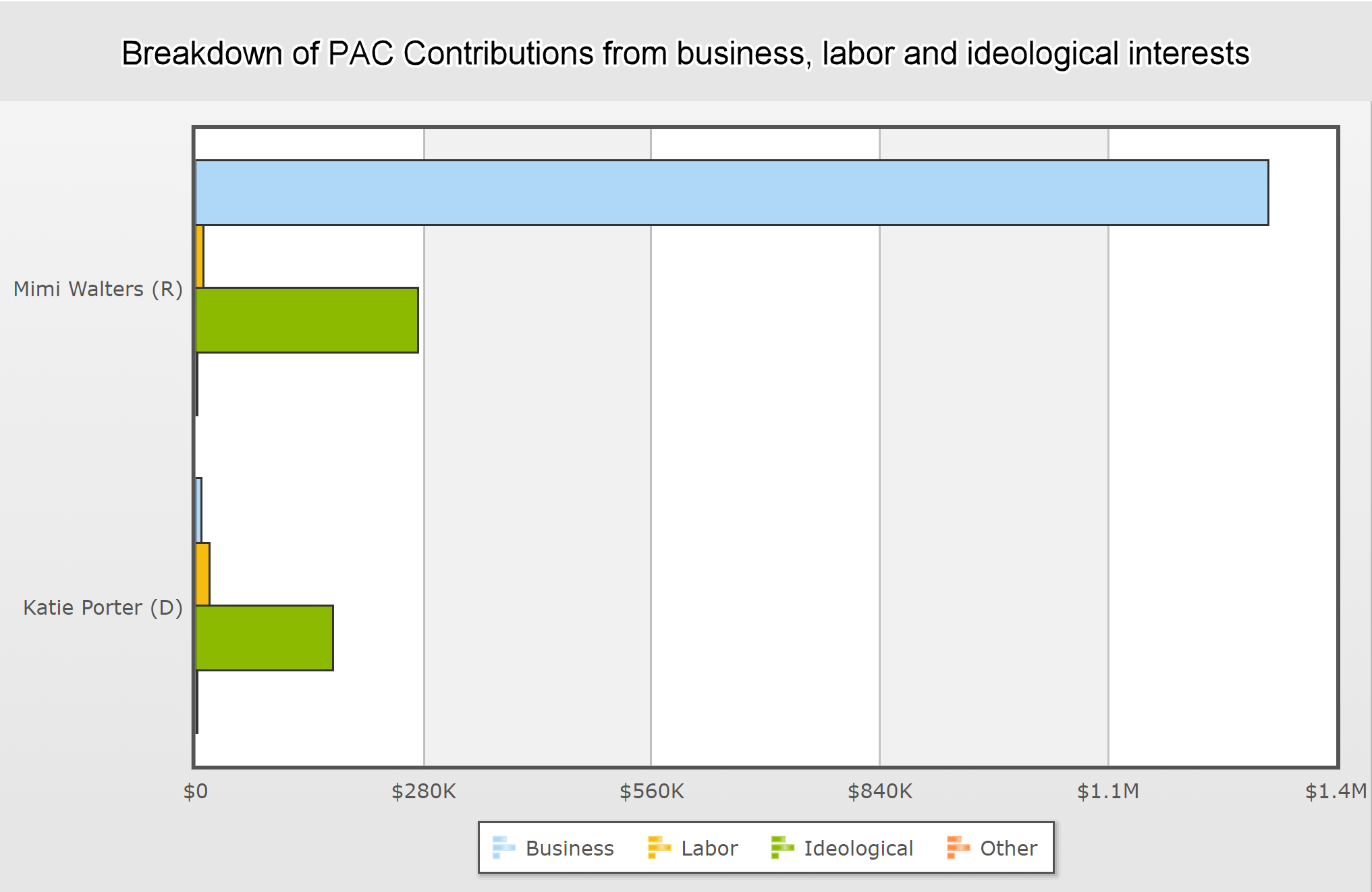 Walters has also benefited from outside spending by groups that are largely funded by financial interests. The New Republican PAC, a super PAC affiliated with Florida Republican Senate candidate Rick Scott, spent $969,000 on television ads in October opposing Katie Porter, according to data from the Federal Election Commission. The New Republican PAC, whose only other expenditures are in the Florida Senate race, is primarily funded by Ken Griffin ($7.5 million), the billionaire owner of hedge fund Citadel LLC. Other large donors to the PAC include Greg Lindberg ($300,000), founder of financial services firm Eli Global, William Foley ($206,100), Chairman of the Board for Fidelity National Financial, and GEO Acquisitions II, a subsidiary of private prison giant GEO Group.

The Congressional Leadership Fund, a super PAC tied to Paul Ryan, has also been spending money on ads attacking Porter. According to data from ProPublica, The CLF has spent $3.7 million on television ads, door hangers, and canvassing opposing Porter. CLF's top finance industry donors include Blackstone Group founder Stephen Schwarzman ($3,750,000) and Citadel founder Ken Griffen ($2,500,000).

The race between Porter and Walters is labeled a "toss-up" by Cook Political Report. FiveThirtyEight is predicting that Porter will be elected with approximately 51 percent of the vote.