With Control of Congress on the Line, Outside Spending Increases in New York Congressional Races
Outside spending on the state's congressional races increased 20 percent between 2016 and 2018, according to Sludge's analysis.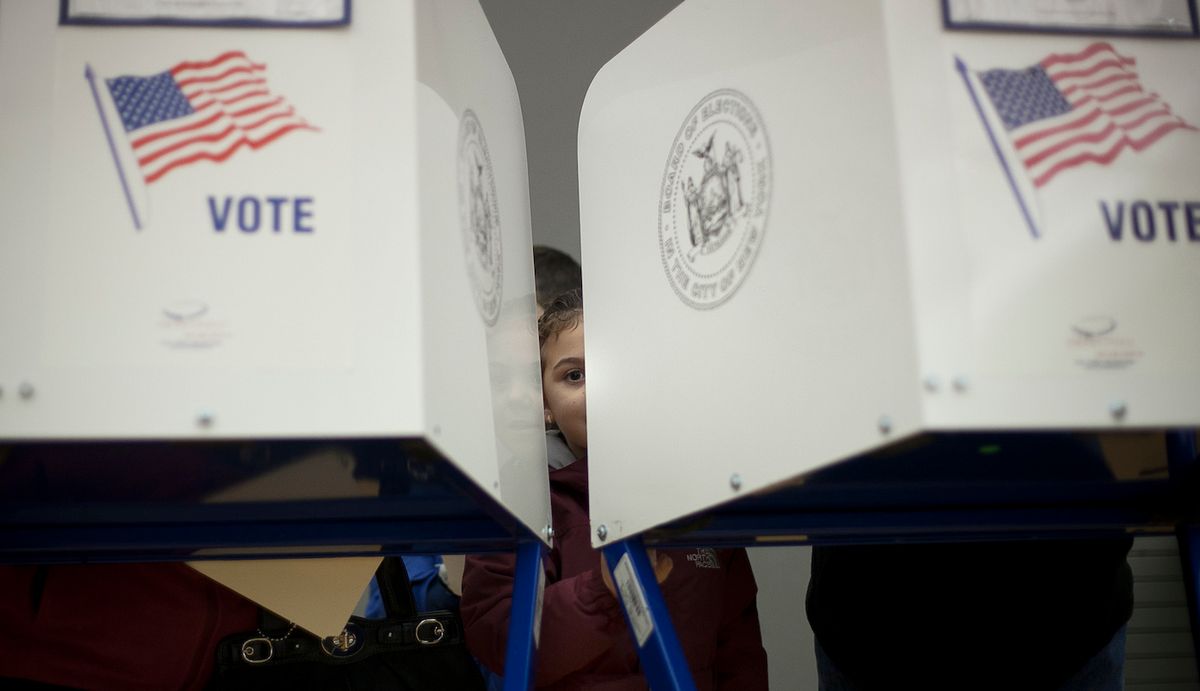 As Democrats seek to gain control of Congress in next week's elections, spending in New York congressional races by groups that are not affiliated with candidates is on the rise.

As of Monday, $31.6 million in outside money has flowed into congressional races in New York this election cycle, a 20 percent increase from the $26.4 million in outside money that was spent in 2016, according to Sludge's analysis of independent expenditure and campaign finance data collected by the Federal Election Commission, OpenSecrets and ProPublica. In the last midterm elections in 2014, outside groups spent $27 million on New York congressional races.

This spending could affect the balance of power in the House, as Democrats attempt to pick up a handful of seats that are currently in Republican control in New York. Of the 27 districts, Democrats currently hold 17, while Republicans hold 9 seats primarily in upstate, Long Island and Staten Island. In total, nine congressional races in New York are considered competitive by Cook Political Report.

The Congressional Leadership Fund, a super PAC tied to Republicans, has spent the most of any outside group. The super PAC has spent $7 million so far in New York's 19th and 22nd congressional districts—which are toss-up races, according to the Cook Political Report—and in the 24th congressional district, a "lean Republican" race.

Meanwhile, the House Majority PAC, the committee associated with congressional Democrats, has spent $5.4 million in four House races, opposing Republicans running in the 1st, 19th, 22nd and 24th congressional districts in New York.

The National Republican Congressional Committee (NRCC) has so far spent $4.2 million supporting Republican Rep. Claudia Tenney in the 22nd Congressional District and opposing Democratic challengers Antonio Delgado in the 19th Congressional District and Dana Balter in the 24th Congressional District.

The Democratic Congressional Campaign Committee (DCCC), on the other hand, has spent nearly $2.8 million opposing Tenney and Republican Rep. John Faso in the 19th Congressional District.

The spending by the Washington, D.C.-based groups is indicative of how hard-fought congressional races this cycle have been amid the possibility of a "blue wave."

New York's 27th
In New York's 27th Congressional District, roughly $57,000 has flowed into the race from outside groups, the vast majority of that amount going toward bolstering Democrat Nate McMurray, who is challenging Republican Rep. Chris Collins. Collins was one of the first members of Congress to endorse President Donald Trump's campaign and is currently under indictment for insider trading.

The $57,000 in outside spending from groups like MoveOn, the Committee to Defend the President and Mad Dog PAC is a significant increase from the $34 of outside money that flowed into the district in 2016.

New York's 11th
In New York's 11th Congressional District, there's been a 370 percent increase in outside spending during this election cycle compared to 2016. The congressional district, which covers all of Staten Island and a sliver of Brooklyn, saw nearly $284,000 in outside money flow into the race in 2016. This year, that figure has ballooned to $1.3 million as Democrat Max Rose seeks to unseat Republican Dan Donovan.

The bulk of this outside money has gone toward supporting Donovan, with the largest amount, $379,000, coming from New Yorkers for Excellent Health Care, a committee affiliated with the Greater New York Hospital Association, a powerful trade group that represents hospitals throughout New York. The U.S. Chamber of Commerce has also spent $350,000 in the race. America First Action, the pro-Trump super PAC whose largest donor is casino magnate Sheldon Adelson, has also spent at least $176,000 on the race, according campaign finance data collected by ProPublica.

New York's 1st
Out on Long Island, outside spending has increased by 108 percent from nearly $402,000 in 2016 to $839,000 in 2018 in New York's 1st Congressional District. Nearly $621,000 of that outside funding has come from two different committees affiliated with labor union SEIU in support of Democrat Perry Gershon. Meanwhile, incumbent Republican Rep. Lee Zeldin's campaign has received a boost from Special Operations For America, a pro-military super PAC with ties to Interior Secretary Ryan Zinke, as well as the National Association of Realtors PAC.

New York's 22nd
Outside spending for the 22nd Congressional District, which covers a large swath of central New York, has increased by nearly 67 percent from $8 million in 2016 to $13.3 million this year, making it the district with the largest amount of outside spending in New York so far this election cycle.

The Congressional Leadership Fund and NRCC have spent roughly $5.8 million supporting Tenney. Meanwhile, House Majority PAC and the DCCC have spent $3.65 million opposing Tenney, who is being challenged by state Assemblyman Anthony Brindisi, a Democrat.

New York's 19th
In the Hudson Valley, New York's 19th Congressional District is also shaping up to be a magnet for outside money with $11.5 million flowing into the race, a 4 percent increase from the nearly $11 million in outside spending in 2016.

New York's 19th Congressional District has been eyed by Democrats for several cycles as a potential pick-up and became an open seat in 2016 when Rep. Chris Gibson, a Republican, announced he wouldn't seek re-election.

The NRCC has so far spent $1.5 million opposing Delgado, while the DCCC has spent $1.1 million opposing Republican Rep. John Faso. Other notable PACs that have put money into the race include the National Association of Realtors Congressional Fund, End Citizens United PAC and American Unity PAC, the group primarily funded by Republican hedge fund executive Paul Singer.

New York's 24th
In New York's 24th Congressional district, outside spending is on track to surpass its 2016 levels. The central New York Congressional District attracted $3.9 million in outside spending in 2016, according to OpenSecrets. As of data available Monday, outside spending totalled $3.5 million.

A large portion of the outside money in that district, nearly $1.1 million, came from the House Majority PAC, the committee associated with House Democrats, which is opposing Republican Rep. John Katko. Meanwhile the NRCC has spent nearly $579,000 opposing Balter.