Take (Donors and Lobbyists) Out to the Ball Games
A Sludge data analysis finds that leadership PACs, which are less regulated than candidate committees, are spending on tickets for members of Congress to schmooze with lobbyists and campaign donors.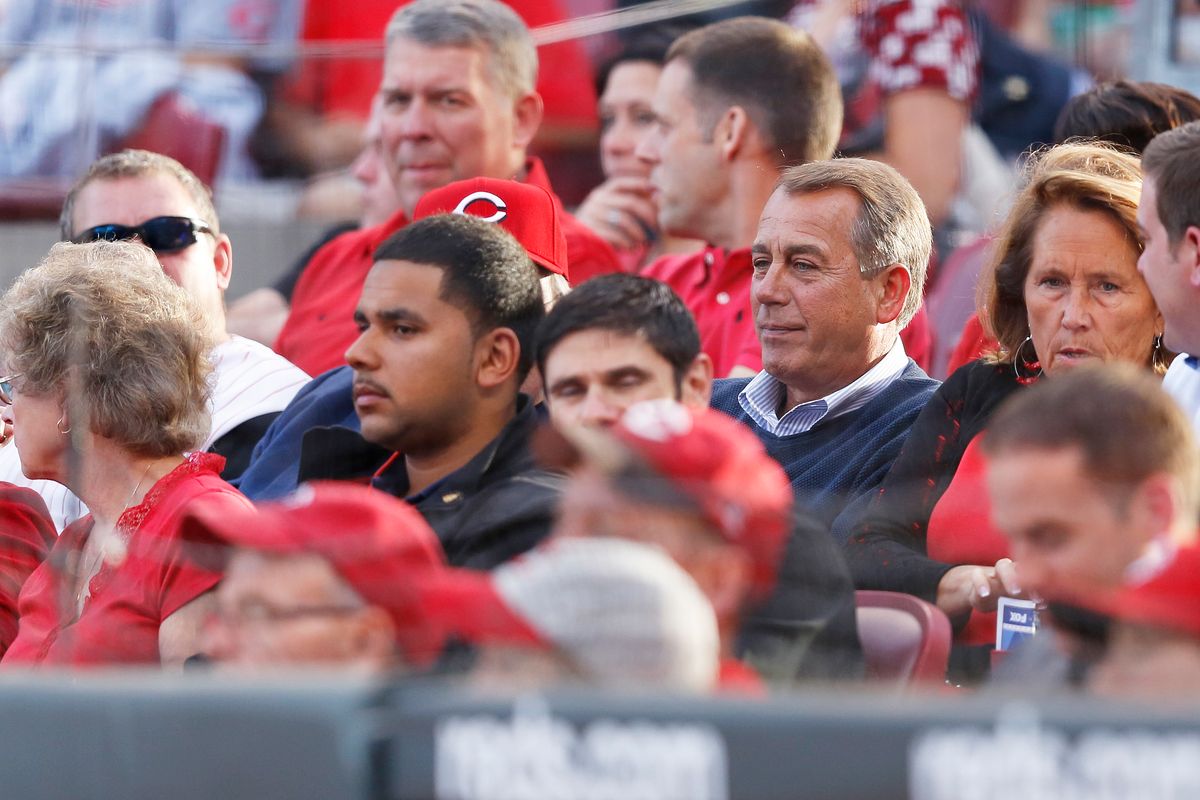 The month of October sees the three most-popular sports leagues in the country overlap: the MLB playoffs, the first half of the NFL regular season, and the first games of the long NBA season (as well as preseason games, for hoops followers).

For the Washington Nationals baseball club, the 2018 season just over was a stinging disappointment. But the D.C. franchise led the country in one area: selling tickets and ballpark fare to the fundraising committees and leadership PACs of members of Congress and other politicians.

These political committees spent more on Nationals tickets than any other sports teams in the MLB, NFL and NBA, a Sludge analysis of Federal Election Commission data on political committee spending from January 2017 to mid-2018, encompassing 185 committees and 154 politicians, found.
Interactive: data reporting by Jay Cassano; data visualization by Josefa Velasquez.
Comparing leagues, Sludge found MLB in the lead with $770,656 in total spending, compared to $240,727 on NFL games – and just $96,475 on NBA games. Of the grand total of than $1.1 million in expenditures, 69.5 percent was on MLB games, with 21.7 percent on the NFL and just 8.7 percent on the NBA.
Interactive: data reporting by Jay Cassano; data visualization by Josefa Velasquez.

While the NFL takes in the most revenue nationwide, it makes sense that campaign spending tilts towards the MLB, given the frequency of contests over a 162-game season, as well as a game experience and ballpark environment more amenable to glad-handing conversation. As Deadspin editor David Roth uncovered recently: "Conservative D.C. Is A Bunch of Weird-As-Hell Nationals Fans".

Spending on Nationals games came out far on top over the 18 months surveyed, totaling $496,177, around 64 percent of all MLB expenditures. The Nats' haul is more than three and a half times that of the second place in team ticket spending across leagues, the Washington painfully-named pro football team, at $144,704. Nats spending alone stands at 45 percent of the total reviewed by Sludge.

While NBA games are not a popular choice for committee outings, LeBron James is still a draw – even for Republican campaigns. The Cleveland Cavaliers were third in overall team expenditures, at $73,936.90. James has recently sparred over social media with President Trump on social issues while leading new models in community investment. James' family foundation has lined up core funding of at least $8.1 million over five years for a new public school in Akron, OH, serving 240 third-and-fourth grade children.
Led by James, the Cavs won the NBA title in 2016, when the Golden State Warriors lost a three-games-to-one lead in the NBA Finals, after having broken the record over the 2015-16 regular season for the most wins by a team, going 73–9. (The Warriors blew a 3-1 lead in the Finals.)

How did the Cavs come out third overall, when only two other NBA teams cracked the top 25 in per-team spending? (Rather remarkably, they're the Los Angeles Clippers at 13, and the Philadelphia 76ers at 20.) Nearly 48 percent of expenditures on Ohio basketball came from Cleveland super-fan Senator Sherrod Brown, an amount rivaled by the 29 percent of Cavs spending from the Ohio Republican Party State Central & Executive Committee combined with the 12 percent from Sen. Brown's Republican opponent, Jim Renacci.

Comparing the major national parties, GOP spending on professional sports games came in at $497,150, 45 percent of total, with Democrats at $399,206, 36 percent of total. The remaining approximately $211,193 (19 percent) in spending came from lobbyist PACs, which FEC data does not affiliate with a party, and the Libertarian Party, with an expenditure of $309–which turns out to be one report by candidate Dale Kearns' campaign for a Philadelphia Phillies game ("tickets and concession") in the third quarter of 2017.

It's fitting that the Libertarian outing was to a pro baseball game, as the MLB is the least regulated intra-league market among the major corporate professional sports–despite, as with the NFL and NBA, existing as government-sanctioned monopolies, operating with an antitrust exemption.
On the economic structures of the leagues, it's a commonplace that the MLB is most capitalist, while NBA hews towards democratic socialism and the NFL is actually more strictly socialist. The MLB has no salary cap and a luxury tax set so high that only seven major-market teams have ever exceeded it (some of them, such as the Dodgers, four times), in addition to a separate program of revenue sharing. The NBA has a "soft" salary cap (with exemptions) and a luxury tax that is frequently triggered by major-market teams, in addition to revenue sharing that's counted as separate from basketball-related income. The NFL has a "hard" salary cap and the most-comprehensive revenue sharing.
Looking at other favored teams for politicians to watch live, the expected big-name larger-market teams make appearances: the Dallas Cowboys at $59,441 (5.4 percent of total), the New York Yankees at $52,945 (4.8 percent), the New York Mets at $35,725 (3.2 percent), the Pittsburgh Steelers at $21,852 (2 percent), and the Texas Rangers at $19,042 (1.7 percent).

What does a trip at the ballpark look like, for a typical donor to a campaign entity? Craig Holman, Government affairs lobbyist at watchdog group Public Citizen, notes that sports are a common way for federal campaign committees and joint fundraising committees to draw donors.

"Though local DC politicians are well known for using their political funds to buy sporting tickets for the benefit of themselves and friends, at the federal level campaign finance laws are rather strict in prohibiting the use of campaign funds for personal benefit," Holman says. "The campaign likely rents a sporting box and then charges all attendees $2,700 to watch the game with snacks and libations."

"However," Holman continues, "leadership PACs are quite a different matter. The donors to leadership PACs tend to be the same donors to candidate committees, giving money in an effort to endear themselves to the lawmaker. And leadership PACs are not strictly regulated under campaign finance laws. These funds may indeed be used for the personal benefit of the lawmaker."

In September, Sludge's Jay Cassano reported on leadership PAC spending on swanky trips for members of Congress to golf clubs and luxury resorts, with less than half of funds over the past five years actually directed to other candidates or committees.

"The lawmaker may even use leadership PAC funds to buy tickets for other influence-peddlers and lobbyists, and all enjoy a schmooze-fest at the game," Holman says. "This should be illegal, but it is not. However, it is highly unethical and subverts the campaign finance law designed to prevent lawmakers from using political money – other people's money – for personal benefit. Leadership PACs allow lobbyists and other special interests to treat lawmakers to gifts and seek political favors in return."

Of the expenditures surveyed by Sludge, $475,844 was by campaign committees (43 percent), while $163,532 was by joint fundraising committees (15 percent), with $218,925 by leadership PACs (20 percent) and $213,467 by lobbyist PACs (19 percent). The remaining money was spent by state and local parties and by national parties. Of the 185 entities reviewed by Sludge, 129 were campaign committees, 29 were leadership PACs, 12 were joint fundraising committees, six were lobbyist PACs, five were national parties, three were state and local parties, and one was a super PAC.

Overall, categorized expenditures by Democrats went $318,885 to the MLB, with $48,443 to the NBA and just $31,878 to the NFL. Republicans spent a comparable $315,458 on the MLB and $48,032 on the NBA, but laid out over four times more–$133,660–on the NFL.

Within D.C. pro sports teams, the top spending PAC was the Brotherhood of Railroad Signalmen on Washington's NFL franchise, with $68,414–nearly all of the $75,189 spent at the painfully-named team's games. At Nationals games, the leading PACs share a nautical affiliation: District No. 1-PCD, Marine Engineers' Beneficial Assoc., with $56,001; and the Masters, Mates and Pilots Fund and the Seafarers International Union of NA-AGLIW, with $40,002 apiece.

This past season, the underachieving Nationals–who finished 15th out of 30 MLB teams in pitching metrics in the 2018 regular season, though fared far better in batting and fielding categories–fell out of contention surprisingly early, even floating a trade of their superstar outfielder, Bryce Harper, ahead of the July 31st non-waiver trade deadline.

Follow-up Sludge reports from this committee sports-expenditure data will focus on individual politicians' fundraising committee and leadership PAC spending on their favored teams, and future reports can examine campaign spending on other sports, such as the NHL, MLS, WNBA, and MMA. While this reporter's home-city Milwaukee Brewers are not among the top 34 teams by committee spending across all three leagues, nor are the terrifically exciting young Milwaukee Bucks, the non-profit and community-owned Green Bay Packers–the only such team in pro sports–appear at 23rd with $3,354.35, or 0.3 percent of the total reviewed.