Former Dark Money Lobbyist Who Guided Kavanaugh Will Provide Critical Confirmation Vote
Watchdog groups call on Sen. Jon Kyl to recuse himself after recent work as a lobbyist for the Judicial Crisis Network and serving as Kavanaugh's 'sherpa' through the confirmation process.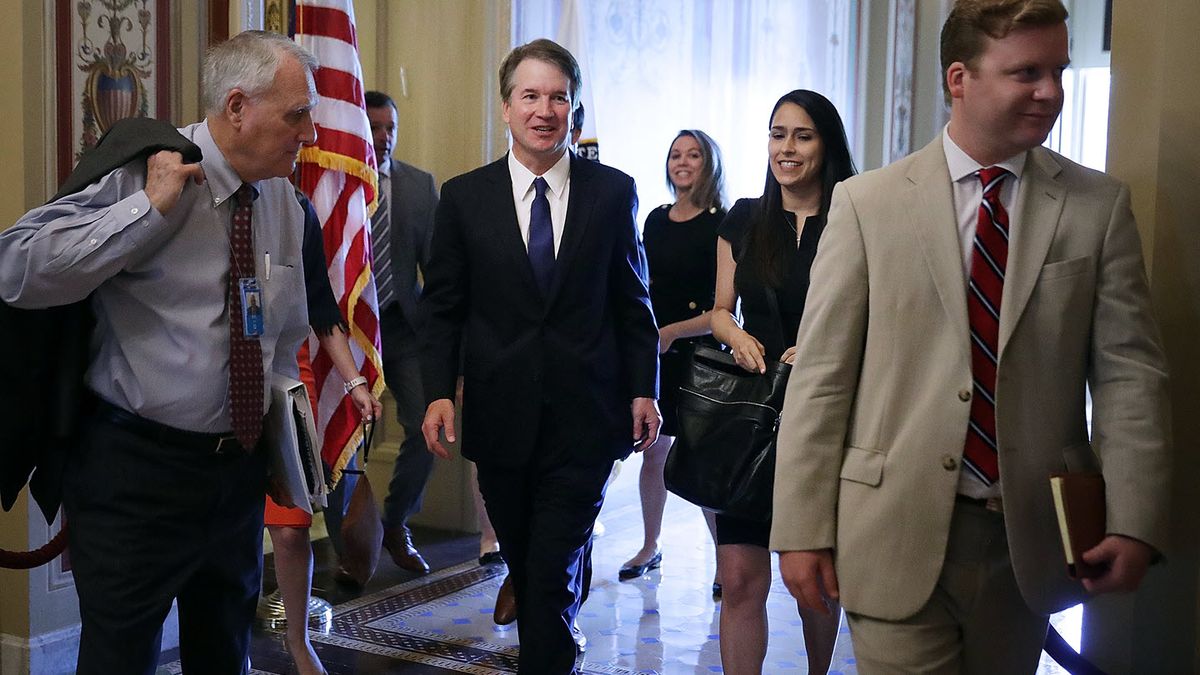 Judge Brett Kavanaugh's confirmation to the Supreme Court looks all but official, after news broke Friday that two key undecided votes—Senators Susan Collins (Maine) and Joe Manchin (W.V.)—stated that they would be voting in favor of Kavanaugh taking a seat on the country's highest court. While much public scrutiny and political pressure has been placed on senators perceived as swing votes, such as Collins, Manchin, and Lisa Murkowski (Alaska), much less attention has been paid to one senator's potential conflict of interest: Senator John Kyl of Arizona.

Kyl was appointed in September by Arizona Governor Doug Ducey to fill the seat left vacant by John McCain's death. Kyl had previously served in the Senate from 1995 to 2013. Upon leaving the Senate, he began a lucrative lobbying career at Covington & Burling, one of the top lobbying firms in D.C. In 2017, Kyl was hired by the conservative dark-money group Judicial Crisis Network to act as the "sherpa" for Trump's last Supreme Court nominee, Neil Gorsuch, guiding him through the confirmation process and gathering support along the way. He was again tapped for that role this year with Kavanaugh, prior to being given McCain's Senate seat.

His paid lobbying for Judicial Crisis Network and role as Kavanaugh's "sherpa" has lead to good government watchdogs calling for Kyl to recuse himself from voting.

"Jon Kyl should recuse himself from the Kavanaugh confirmation vote. Kyl received significant compensation from his client, the Judicial Crisis Network, to get Kavanaugh over the line, which enriched both Kyl and His former employer, Covington & Burling," Craig Holman, government affairs lobbyist at Public Citizen, told Sludge. "Kyl even facilitated his reputation serving as a Sherpa for Kavanaugh. Delivering on the final confirmation is likely to result in further lucrative contracts when Kyl decides to leave the senate. Kyl's business career is closely entwined with the Kavanaugh confirmation."
Kyl's apparent conflict of interest has also drawn protesters to his office calling on him to recuse himself.
Kyl has made no secret of his intention return to the lucrative world of lobbying after a brief stint in the Senate, stating that he will only stay in McCain's old seat until the 2020 special election. But the way the Senate's conflict of interests rules are written means that Kyl voting in line with the wishes of his former lobbying client is not a violation of Senate ethics.
"The Senate conflict of interest rules are notoriously weak and, worst yet, largely unenforced," said Holman. "Though senate rules generally prohibit a senator from using their official position for personal gain, that rule is usually interpreted by the senate ethics committee to mean immediate personal gain while sitting in the senate. If Kyl chooses to ignore his ethical responsibilities, it is unlikely the senate ethics committee will do anything about it."
Kyl's former lobbying client, the Judicial Crisis Network, has spent at least $12 million on ads supporting Kavanaugh's confirmation. The Judicial Crisis Network is set up as a 501(c)(4), so they are not required to disclose their donors. However, tax documents reveal that they have financial ties to the Federalist Society, a libertarian group that works to select judges for nomination to the federal judiciary, including the Supreme Court. Kyl is listed as a contributor on the Federalist Society's website, having spoken at numerous events hosted by the group in recent years.
Kyl's office did not respond to a request for comment.

When Kyl accepted Gov. Ducey's appointment to the Senate, he stated: "For now, there's much unfinished business on the Senate's calendar, including confirmation of President Trump's nominees to judicial and executive branch positions. I look forward to going to Washington and getting to work."
Related posts: