Telecom-Funded Groups Ask Congress to Oppose the Net Neutrality CRA on 'Behalf of Conservatives Everywhere'
Despite claiming to speak for all conservatives, the letter comes from a particular subset of groups on the right—those that have received funding from the telecommunications industry.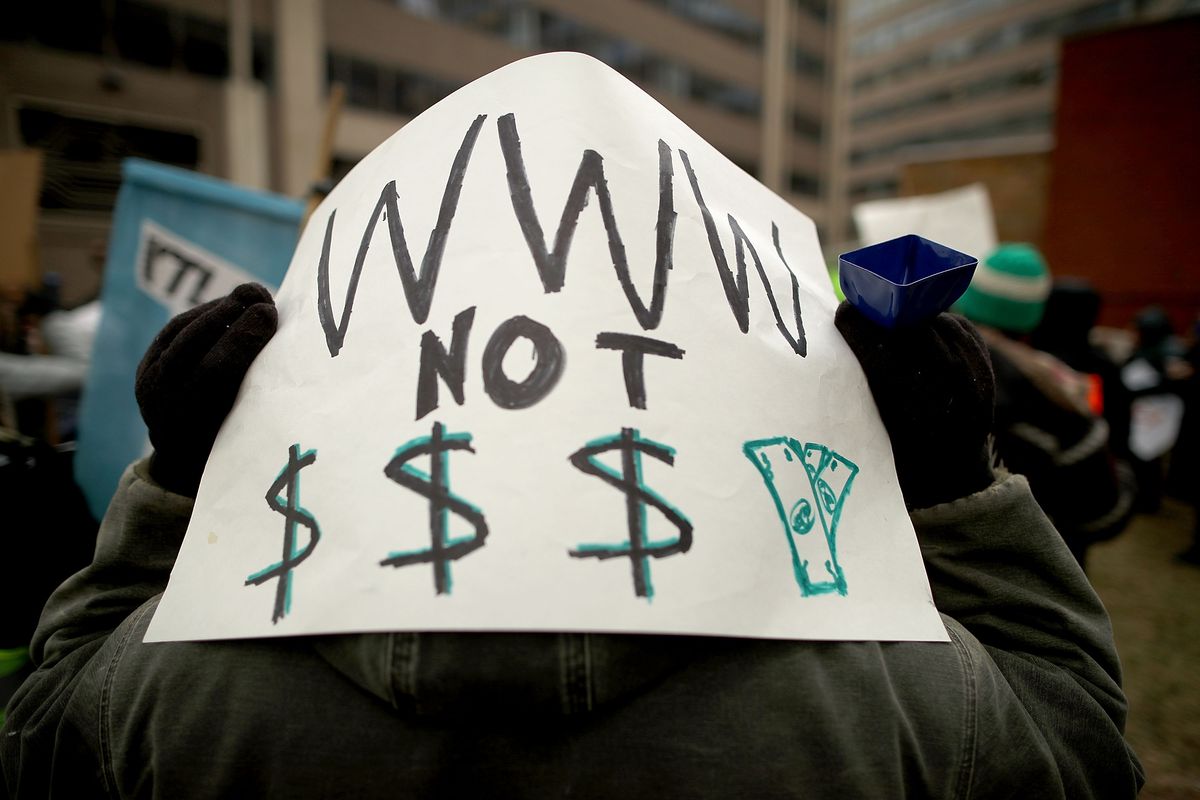 Nearly three dozen conservative nonprofits and think tanks sent a letter to members of the House of Representatives on Monday, urging them to reject a Congressional Review Act (CRA) resolution that would overturn the Federal Communications Commission's recent order killing net neutrality rules.

Democrats in the House of Representatives are attempting to force a vote on the net neutrality CRA by securing signatures from a majority of House members on a discharge petition that would pull the bill out of committee and bring it to the floor. But to succeed they need support from dozens of Republicans.

The letter from the conservative coalition comes as momentum appears to be building for the Democrats. Rep. Mike Coffman (R-Colo.) recently became the first Republican to sign their discharge petition. A survey conducted by Republican pollster Bryan Sanders was released earlier this week showing that opposition to net neutrality could hurt Republicans in key House battleground districts this November. The poll found that opposition to net neutrality could be a significant factor tipping the scale towards Democratic candidates for a majority of undecided voters in the districts where the poll was conducted.

"On behalf of conservatives everywhere, please speak out against the CRA and the re-imposition of devastating digital regulations," the groups wrote in their letter to Congress.

Despite claiming to speak for all conservatives, the letter comes from a particular subset of groups on the right—those that have received funding from the telecommunications industry.

According to a Sludge analysis, at least 29 of the 34 groups that signed the letter have received grants from telecom industry lobbying groups or are funded by organizations that receive substantial telecom industry support.

Since most of the groups signing the letter are set up as nonprofits, they are not required to disclose the identities of their donors. Since they are not primarily focused on lobbying politicians or running political campaigns, they don't have to file financial information with the Federal Elections Commission or lobbying disclosures with Congress. But a review of 990 tax forms filed at the Internal Revenue Service by grant-giving organizations, as well as other documents, a portion of their funding can be traced.
The letter is hosted by—and appears to be organized by—a nonprofit organization known as the Taxpayers Protection Alliance (TPA). Sludge previously reported about TPA's telecom industry ties in May when they were running geo-targeted ads on social media to convince people to call their members of Congress and ask them to oppose the net neutrality CRA, a practice they appear to have recently restarted.

TPA, a self-described non-partisan public education group, has received funding from both of the telecom industry's main trade groups—NCTA  (the Internet and Television Association) and CTIA  ( the Wireless Association) by way of a subsidiary called MyWireless that appears to do most of their grant-giving, according to tax records. From 2012 to 2016, the most recent year for which tax records are available, the two trade groups have given at least $110,000 to TPA.

NCTA and CTIA are funded by and represent all of the major telecommunications and cable companies that are fighting against net neutrality rules in the U.S., including Comcast, Verizon and AT&T. Although the companies lobby the government themselves, they typically rely on trade groups to provide funding to think tanks and other nonprofits that support them on issues.

Here's a list of some of the groups that have signed the letter and how much money they have taken from the telecom industry:

The Institute for Policy Innovation (IPI), a think tank founded by former Republican House Majority Leader Dick Armey that says its mission is to "research, develop and promote innovative and non-partisan solutions to today's public policy problems." From 2010 to 2015, IPI received $263,000 in general support funding from NCTA and MyWireless (CTIA), according to tax documents reviewed by Sludge. In 2008, Armey worked as a lobbyist for Verizon, among other clients.  
The American Consumer Institute Center for Citizen Research signed the letter against the CRA despite the fact that without net neutrality internet service providers are can engage in throttling and paid prioritization deals that could lead to slower and more expensive internet access. According to tax documents, the group has received $25,000 per year from MyWireless from 2010 to 2015, and in 2016 that amount was increased to $30,000.  
The Hispanic Leadership Fund signed the letter despite many groups representing minorities arguing that the lack of net neutrality rules will disproportionately harm communities of color. The Hispanic Leadership Fund is a member of Broadband for America, an anti-net neutrality coalition that received $2 million a year in general support funds from NCTA from 2010 to 2014, tax records show.
Another consumer group, Consumer Action, broke with the majority of organizations representing consumers to sign the anti-CRA letter. According to tax documents reviewed by Sludge, they received $10,000 per year from MyWireless (CTIA) from 2012 to 2015, and their donor page from 2008-2009 (the most recent information available on their website) lists AT&T and Verizon as benefactors, but does not provide details on the amount of money they companies have given them.
The State Policy Network is an umbrella organization and grant maker for conservative think tanks across the country, more than a dozen of which signed the anti-CRA letter. According to a document obtained and described by the Center for Media and Democracy, as of 2010 their funders included AT&T, Comcast, Verizon, and Time Warner Cable. Tax records show that they group also received annual support from NCTA for their tech policy working group from 2012 to 2015. Organizations funded by the State Policy Network that signed the letter include the Goldwater Institute, John Locke Foundation, Montana Policy Institute, Freedom Foundation of Minnesota, Alaska Policy Forum, and several more.  
Americans for Tax Reform also signed the letter. They are best known for their ties to prominent conservative figures like founder Grover Norquist, Karl Rove, and the Koch brothers, but they also have financial ties to the telecom industry. The NCTA gave them $50,000 per year for general support from 2011 to 2015 according to tax records. The CTIA (via MyWireless) chipped in another $165,000 from 2010-2016. They are also a member of the State Policy Network.
The American Legislative Exchange Council (ALEC) signed the letter through their 501(c)(4) affiliate ALEC Action. ALEC is well known for their work with corporations and interest groups on crafting model legislation for state legislatures, and among those corporate partners are major net neutrality opponents like AT&T, Comcast, Charter, and Verizon. ALEC has also received at least $10,000 from MyWireless, tax records show.