Last-Minute Ad Buy Not Enough To Stop Devoted Trump Candidate in Virginia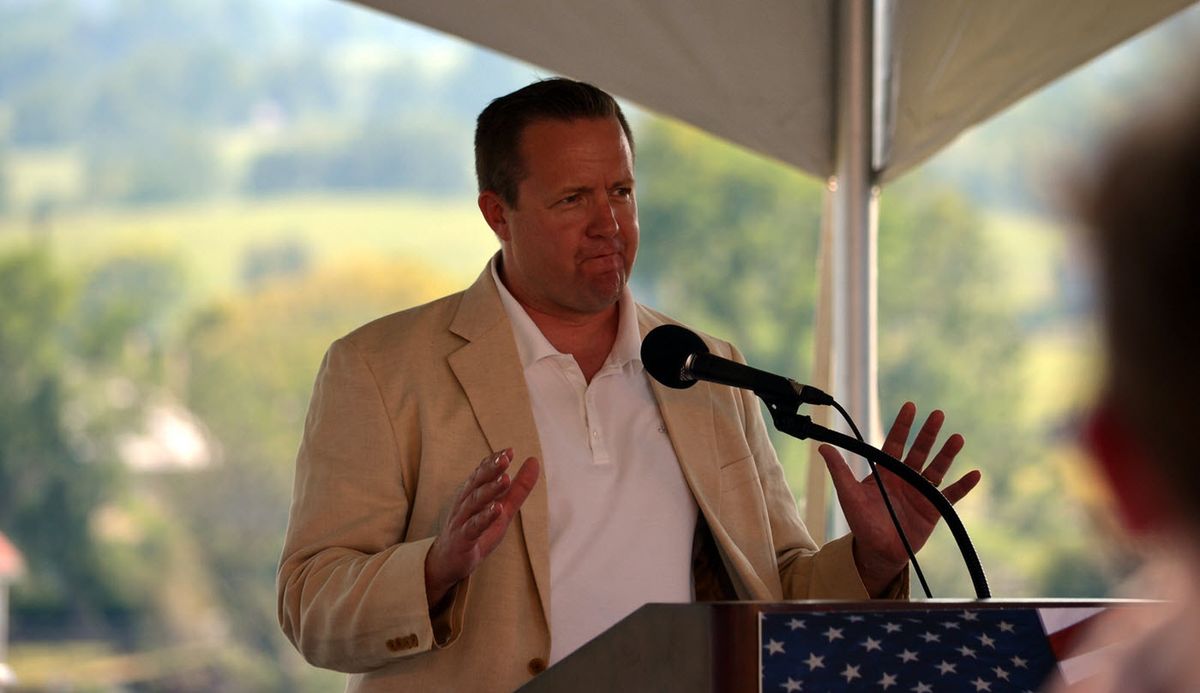 Despite a last minute advertising blitz in Virginia by Republican and conservative PACs seeking to shore up support for mainline Republican Nick Freitas, the Virginia House member was defeated in Tuesday's Republican Senate primary by Corey Stewart, a Trump firebrand with previous ties to the far-right.

Stewart, a county supervisor in Virginia and former state chairman of President Donald Trump's presidential campaign, edged out a win against Freitas shortly before 9 p.m., securing nearly 45 percent of the primary vote to Freitas' 43 percent. Stewart will face Democratic Sen. Tim Kaine in November's general election.

In the days leading up to yesterday's primary, outside groups seeking to influence Virginia voters spent nearly $417,000 on ad buys, according to the 24- and 48-hour reports filed with the Federal Election Commission. The largest beneficiary of the last-minute spending was Freitas, whose campaign for the Republican nomination was bolstered by nearly $386,000 in spending from outside groups in the last two weeks.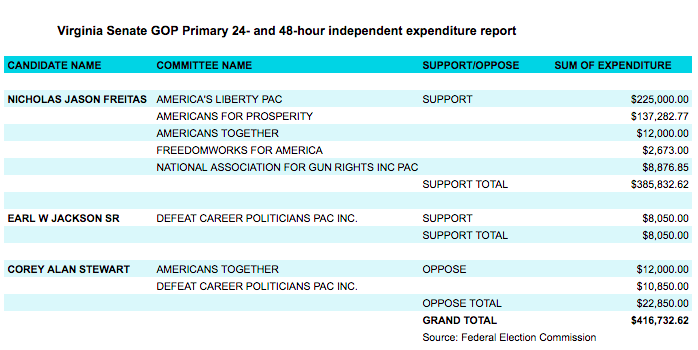 America's Liberty PAC, the pro-Rand Paul Super PAC, made a $225,000 TV ad buy in early June supporting Freitas. Americans For Prosperity—the advocacy group funded by conservative billionaires David and Charles Koch—spent more than $137,000 in June on advertising and administrative expenses supporting Freitas' bid for Senate, FEC disclosures show. 

Americans Together, a Republican PAC that spent $12,000 in support of Freitas, spent the same amount on phone calls of likely voters and digital ads this past week opposing Stewart. The Republican establishment had shied away from Stewart due to his embrace of Confederate memorials during a gubernatorial bid in 2017, past praise of white nationalist Paul Nehlen and prior appearances with the organizers of 2017's "Unite the Right" rally in Charlottesville, which resulted in one casualty and roughly three dozen people injured.

Despite the lack of support from Virginia's GOP establishment and Washington-tied groups, Stewart raised the most money in his bid to be the Republican nominee to challenge Kaine. Since he announced his candidacy in July 2017, Stewart raised roughly $841,000 between then and late May, according to the most recently available FEC disclosure. By comparison, Freitas raised roughly $503,000 in the last two years and the third Republican candidate, E.W. Jackson, raised nearly $287,000.

Stewart's largest individual donors were Arthur Silber, the owner of the Potomac Nationals, and his wife Lynn, who donated a combined $20,000 to Stewart's campaign. Herb Campbell and Herb Campbell Investments, LLC donated a combined $18,900.00. Meanwhile real estate developer Giuseppe Cecchi and his wife, Mercedes, donated a combined $16,200 to Stewart's campaign.

Stewart's win comes at a tenuous time for Republicans nationally as they struggling to hold onto, or seize, seats in increasingly blue states. Bill Bolling, the former Republican lieutenant governor of Virginia, said in a tweet that he was "extremely disappointed" in the outcome of Tuesday's primary.

Republicans in Virginia have also not won statewide office in nearly a decade, and Stewart — who, according to local news reports, claimed to be Trump before Trump—may not be as palatable for moderate voters and women come November.

Stewart will have the additional challenge of mounting a bid against a well heeled incumbent. Kaine, who was Hillary Clinton's running mate in her failed presidential bid, had $11.4 million in his campaign coffers as of late May, FEC filings show.